The Society of Plastics Industry (SPI) has developed a code that identifies the types of plastics used in plastic products.

Types Of Plastics Used In Plastic Product
At the bottom of each plastic container, there is a triangle mark which consists of 3 arrows, and a number ranging from 1 to 7 is in the middle of the triangle.
If the number is 05 or more, you can recycle it. And the bigger the numbers, the safer.
If less than 05, or 04 or less, or even no number, please do not re-use or heating use.

"NO. 01" PET: Applied in clear soft drink and beverage bottles, food packaging. Heat resistant 60℃, only suitable for warm or frozen drinks/food. And the bottle will easily deformed if put high temperature liquid into it or heat it.

"NO. 02" HDPE: Applied in bottles (especially for food products, detergent and cosmetics), industrial wrapping and film, sheets, plastic bags. Recycling is not recommended if cleaning is not thorough.

"NO. 03" PVC: Applied in bottles, packaging film, credit cards, water containers, water pipes. Very rarely used in food packaging. This material is easy to produce harmful substances at high temperatures, and even in the process of manufacturing it will be released.

"NO. 04" LDPE: Applied in cling film, plastic bags, flexible containers and good wrap. Not heat resistant, when the temperature is more than 110℃, the qualified PE plastic film will usually appear hot melt phenomenon and leave plastic agents that the human body can not break down. If you wrap food with plastic wrap and heat it, the oil in the food will easily dissolve the harmful substances in the plastic wrap. Therefore, it is necessary to remove the wrap before putting food in the microwave.

"NO. 05" PP: Applied in food packaging such as microwave oven box, sweet and snack wrappers, milk and beer crates and so on. Heat resistant 130℃.
This is the only plastic box that can be put into the microwave oven. Special attention should be paid that the base of some microwave oven lunch box is made of PP, but the lid is made of No.1 PE or No. 6 PS which are not heat resistant and can not be put into microwave oven. For safety purpose, take the lid off the container before putting it in the microwave.

"NO. 06" PS: Applied in disposable hot or cold drink cups and plates, fast food clamshells, dairy product container. Heat resistant 80℃. The material is both heat-resistant and cold-resistant, but can not be put in microwave ovens because it releases chemicals at too high temperature.
"NO. 07" PC or other: Applied in other resins, complex composites and laminates. When using these containers, they should not be heated or exposed to direct sunlight. Stop using if the container has any damage. Reuse of aging plastic appliances should be avoided.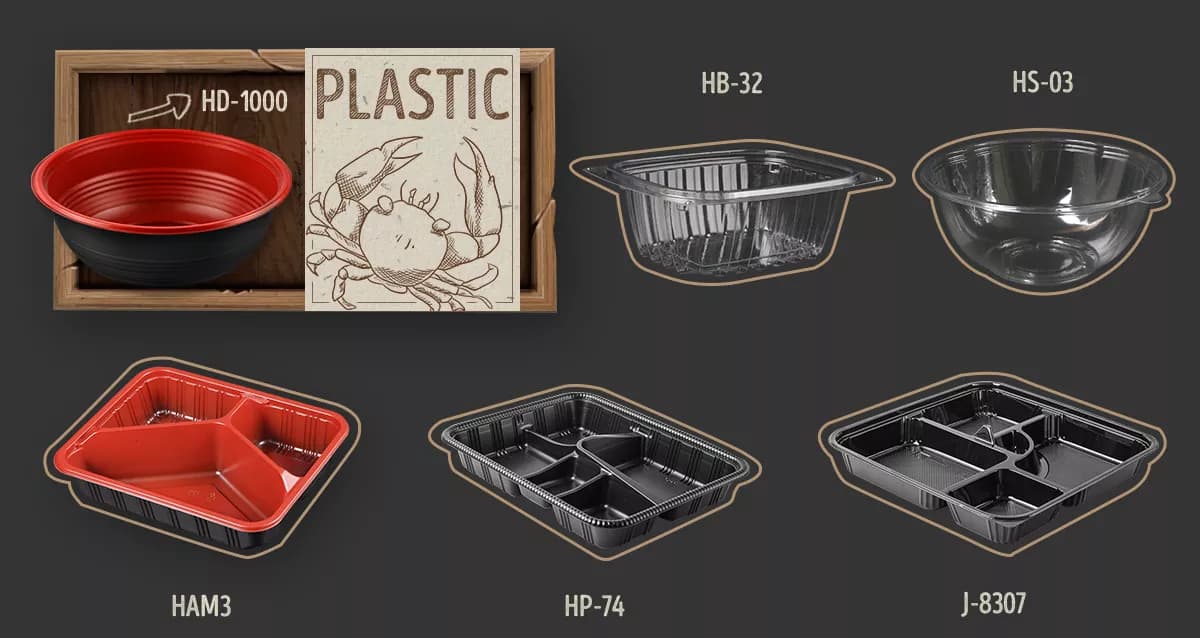 Material: PP
·Cut-, leak-, and crack-resistant
·Non-absorbent
·Microwavable and freezer-safe options available
·Sturdy material
·Recyclable options are great for environmentally-friendly business
Recommandation:
HAM
series
↑↑↑
(Click Here)
PP
series
↑↑↑
(Click Here)
HD
series
↑↑↑
(Click Here)
SP
series
↑↑↑
(Click Here)
Material: PET
·Cut-, leak-, and crack-resistant
·Non-absorbent
·Freezer-safe available
·Sturdy material
·Transparent options are great for food display
·Recyclable options are great for environmentally-friendly business
Recommandation:
HC
series
↑↑↑
(Click Here)
HS
series
↑↑↑
(Click Here)
HE
series
↑↑↑
(Click Here)
XG
series
↑↑↑
(Click Here)
Material: PS
·Cut-, leak-, and crack-resistant
·Non-absorbent
·Freezer-safe options available
·Sturdy material
·Transparent options are great for food display
Recommandation:
J
series
↑↑↑
(Click Here)
HP
series
↑↑↑
(Click Here)
HB
series
↑↑↑
(Click Here)
J
series
↑↑↑
(Click Here)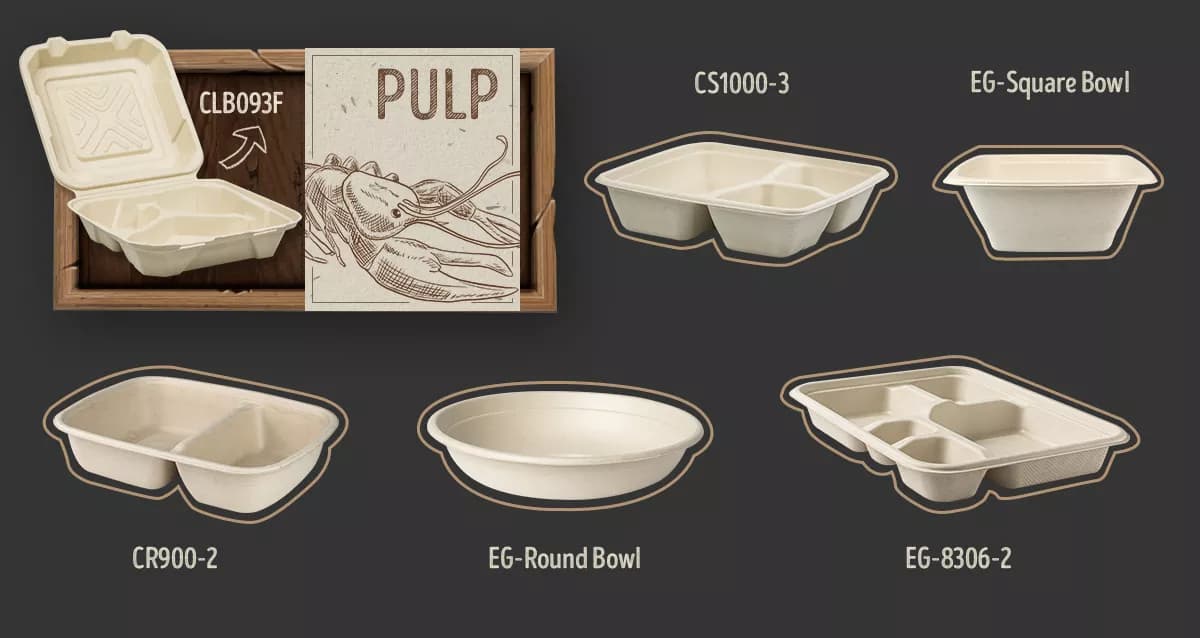 Material: Bagasse Pulp
·Great for environmentally-friendly businesses
·Securely holds food
·Compostable and biodegradable
·Microwavable and freezer-safe
·Conserves heat
Recommandation:
CLB
series
↑↑↑
(Click Here)
CS
series
↑↑↑
(Click Here)
CR
series
↑↑↑
(Click Here)
EG
series
↑↑↑
(Click Here)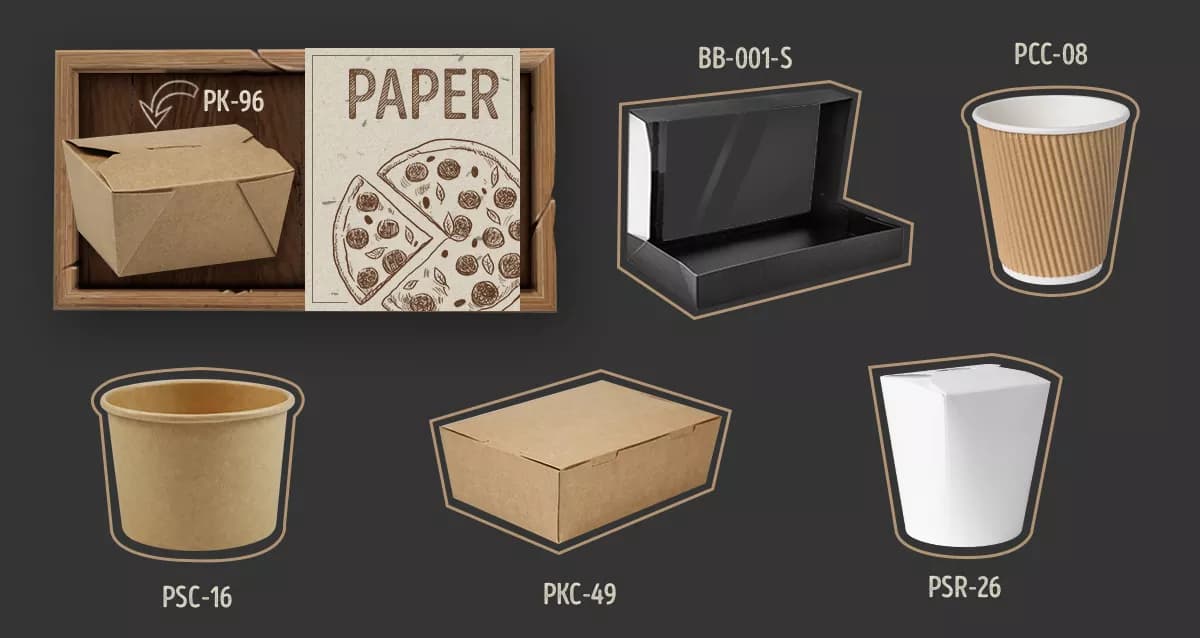 Material: Paper
·Collapsible design takes up less storage space than other options
·Conserves heat
·Grease-resistant
·Environmentally-friendly alternative to foam or plastic
·Heat lamp-tolerant and microwave-safe options available
·Post-consumer recycled options available
Recommandation:
PK
series
↑↑↑
(Click Here)
PKW
series
↑↑↑
(Click Here)
PSC
series
↑↑↑
(Click Here)
PCC
series
↑↑↑
(Click Here)